Solar Wall Lights with Wall Mounts
Featured Item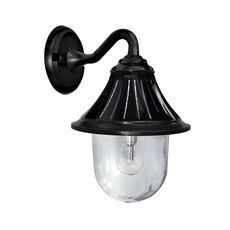 The Orion Solar Wall Lamp is designed with NEW Morph Technology and GS Solar LED light bulb. This modern solar lamp is a fantastic way to illuminate the exterior of your house, shed, greenhouse, storage unit, garage or front porch. At dusk, 11 warm-white LEDs turn on automatically and shine at a brightness of 150 lumens for up to eight hours on a full solar charge (generally it takes about six hours of direct sunlight on the solar panel for the battery pack to receive a full solar charge after it has been completed drained.) With proper setup for optimal sun exposure, a sunny day without cloud cover should be sufficient to provide a full recharge. Recharging speed will vary based on weather conditions, but charging will not occur if the solar panel does not receive direct sunlight. GS Light bulbs are not to be used in other electrical sockets. These are low-voltage light bulbs that are built and designed for our products only!
You don't always need electricity to add lighting in certain areas of your home or business. Skip the hassle of rewiring and go with a stylish solar wall light from Earthtech Products. These wall-mounted fixtures offer bright LED lighting that illuminates spaces perfectly without the use of an outlet or in-wall wiring. Instead, you can simply install the light with included wall mounting brackets or accessories in the exact location you want. Then, subtle solar panels will collect energy to give you beautiful illumination throughout the day. These solar panel wall lights are especially popular near entryways, garages, decks and other outdoor spaces where the lamps can collect plenty of energy. The illumination they offer is attractive and can even add a layer of safety to your property.
Read More
...

With other types of wall-mounted lights, you'll have to jump through hoops to make sure you can have it wired properly. Plus, you'll face the increase in your utility bills if you plan to use the light often. That's a real concern for people who want a light that stays on all night outdoors. By choosing solar wall mount light, you eliminate those concerns can get easy, hassle-free lighting wherever you need it. Another bonus, of course, is that solar lighting is much better for the environment. So you can enjoy that beautiful and bright LED illumination without feeling guilty about your carbon footprint.

At Earthtech Products, you'll find a range of classic and contemporary solar wall light styles from which to choose. Whether you want someone ornate and shiny or a subtle-subtle and chic lighting fixture, you'll find it here. If you have any questions, feel free to contact our solar experts for more information. Don't forget to sign up for our rewards program so you'll earn points with every purchase you make.