Base Mounted Solar Deck Lights, Rail and Step Lights
Featured Item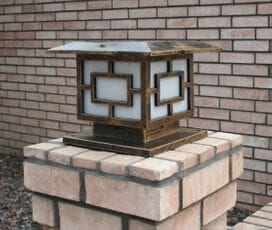 Jazz up your outdoor areas with the addition of the Premium Solar Pillar Light. This elegant outdoor solar post cap light easily mounts on pillars or posts in your garden, lawn or yard and will deliver high-class lighting to areas outside your home in a cost-efficient manner once installed. With this solar LED yard light, you can now improve your home's curb appeal within minutes. Completely wireless, you will be able to quickly mount this solar yard light to 12 in. sq. posts and pillars with ease. Equipped with solar powered LEDs and crafted with a timeless design, this decorative solar light has the aesthetic lighting and charm that allows it to improve the appearance of your outdoor areas. Drawing power from the sun, this outdoor solar light for 12" posts and pillars gives off the same level of light as a traditional post cap light or 40-watt incandescent minus the hefty electricity bills. Height: 9". Top Measurement: 11.75" x 11.75". Bottom Measurement: 11.50" x 11.50". Light Source: 36 x Hi Power Bridgelux LEDs. Color Temperature: 6000K (Cool White). Light Output: 324 Lumens. Battery: 6V/ 4.5 AH sealed lead acid. Maximum Operating Time: 13 hours. Solar Panel: 6W monocrystalline silicon. Frame Material: Cast aluminum. Waterproof rating: IP65. Manufacturer Warranty: 2 years.
These premium quality base mounted solar lights serve many functions. With the solar post cap lights, you can dress up deck stairs while providing guests with bright, clear light. Solar deck lights can be used at entrances and in dark corners to give clear illumination at night and also as a decorative touch. These solar lights can be easily mounted on fences, railings and pillars. There are both classic and more artistic styles in our solar deck cap models, and you can also choose from solar lights that have a vintage look for older homes.

Common features of all these solar lamps include bright-white LEDs, a built-in solar panel that charges the light in daytime hours with sunlight and automatic turn-on and shut-off at dusk and dawn. With no wiring and no need for electricity, these beautiful lamps will save you a lot of money.