Base Mounted Solar Deck Lights, Rail and Step Lights
Featured Item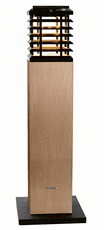 The Tekura design with a Weathered Teak Finish is based on the elegant combination of oiled teakwood and Italian made high performance HPL in slate finish. A robust and sophisticated mix, highly adaptable to any outdoor environment. A rich blend of "zen" attitude and style, the Tekura Solar Fixture will add a spark of finesse to your backyard. The Les Jardins High Efficiency Solar Lighting emits a warm light (2700K) and produces 300 lumens.
These premium quality base mounted solar lights serve many functions. With the solar post cap lights, you can dress up deck stairs while providing guests with bright, clear light. Solar deck lights can be used at entrances and in dark corners to give clear illumination at night and also as a decorative touch. These solar lights can be easily mounted on fences, railings and pillars. There are both classic and more artistic styles in our solar deck cap models, and you can also choose from solar lights that have a vintage look for older homes.

Common features of all these solar lamps include bright-white LEDs, a built-in solar panel that charges the light in daytime hours with sunlight and automatic turn-on and shut-off at dusk and dawn. With no wiring and no need for electricity, these beautiful lamps will save you a lot of money.