Emergency Backup Power - Solar Generators
Featured Item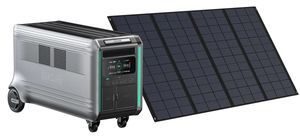 The Zendure SuperBase V Solar Generator is the first plug-and-play home energy storage system designed for the whole house. A customizable energy ecosystem with user-centric design and revolutionary technology, SuperBase V sets a new standard for home energy storage. Includes a high efficiency 400W Fold-able Solar Panel.
How many items in your home from the television to the refrigerator run on electricity? You probably donít even realize how many until the power goes out and youíre left helpless. Emergency backup power using solar panels and chargers can keep life going until regular power comes back.
Read More
...

Emergency Solar Backup Power Are Self-Sufficient
The biggest problem with fossil fuel generators is they need to be replenished with fuel regularly. Unless you have it on hand, your emergency generators may not do you any good. Portable solar generators are self-sufficient by using the free power of the sun. There are no hazardous chemicals to store or buy. Mother Nature provides everything you need.

A portable solar power system works with any habitat from houses and apartments to cabins and motor homes. Simply connect a charged unit, and you'll have power running to your home again in no time. Place the solar panels in the sun, and you'll have plenty of power for the evening.

Portable Solar Generators Can Go Anywhere
Do you love traveling the open road in a recreational vehicle? Keep your battery charged and power appliances and even outdoor lights with a portable solar power system. Plan on a weekend camping trip, but still want some of the comforts of home? Pack up a few flexible solar panels along with your other camping equipment.

Many farms and camping areas have outbuildings, barns and cabins without a link to grid power. They're still necessary, but what can you do? Earthtech Products has solar lighting kits for sheds, garages and more that let you spend all the time you need in these buildings without worrying about being the dark. They'll charge up during the day and provide ample lighting at night.

Earthtech Products can Fulfill All Your Solar Product Needs
Solar power is what we do here at Earthtech Products. We've been involved with the industry for years and sell only the most reliable units at affordable prices such as Goal Zero, Renogy and UPG. We're able to give each customer the time and attention they deserve. Sign up for our rewards program to earn points for all your purchases and enjoy other handy perks, such as faster checkout and exclusive offers.