Solar Post Lights for 3 Inch Diameter Post
Featured Item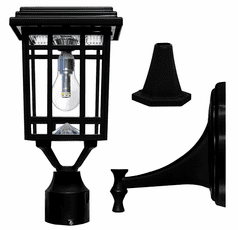 The Prairie Bulb Solar Lamp Post Light in Black helps add a little rustic chic to your outdoor space. Includes several mounting options in the box. This allows you the flexibility to install the solar lamp post light almost anywhere around your home, and an affordable way to enhance your landscape lighting.
With a solar lamp post light for a 3 inch pole, you can convert an outdoor gas lamp to something far more energy efficient, inexpensive and easy to maintain. You can also use one of these innovative solar lights to replace an electric fixture that no longer works, saving you from costly rewiring work. A replacement solar post lamp head is environmentally responsible. Since solar post lights use no electricity, purchasing a solar lamp post light helps reduce carbon emissions. This is the best solar post light fixture you will find, since it's so easy to install. All you have to do it pop the solar lamp post fitter over the existing post and fasten the fixture with 2 screws.

Our solar lamp post conversion kit is available for single, double or triple fixtures. Earthtech Products is your solar lighting specialists. If you need any help with the conversion process or have any questions, call our knowledgeable customer service representatives at 1-877-548-3387. They can help you with ways to improve your home's energy efficiency.