Solar Garden Lights with Stakes
Featured Item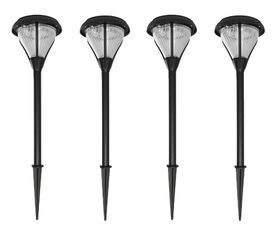 The Gama Sonic Premier Garden Dual Pathway Light - Set of 4 is the perfect option for outdoor solar pathway lighting. Installation takes mere minutes. Just stake the solar lights in an area that gets ample sunlight during the day, and enjoy the warm glow of 50 lumens that the lights provide at night. No electrical wiring is needed for installation.
Your home's exterior looks beautiful during the day, but when the sun sets, all your hard work disappears into the night. If you want your home's curb appeal to look just as good in the evening as it does in the daytime, get some of these garden path light stakes from Earthtech Products. These unique products are essentially metal stakes for solar lights. The sturdy stake makes them easy to place in any garden bed or lawn. The stylish garden light on top, meanwhile, collects energy from the sun during the day so that they will automatically illuminate each night. The result is a beautiful LED glow that creates gorgeous nighttime landscaping for your home.
Read More
...

These metal stakes solar lights are great for gardens. However, there are other use for them besides being placed near your flowers. These solar metal landscape lighting stakes also offer an easy and affordable way to illuminate a walkway or entrance. You can place them along the driveway to help direct your car in the evening. You might even want to place some along the edge of your deck or patio to create an enchanting environment when enjoying your backyard after dusk. Because there is no complicating wiring involved or the need for nearby outlets, you can place them virtually anywhere that's exposed to the sun during the day and still get the beautiful illumination you want.

You'll find a wide variety of solar path light stake styles at Earthtech Products. You can choose classic or contemporary designs to suit your home and your tastes. And with our rewards program, you can earn points with your order that can be redeemed for a future purchase. Contact us today if you have any questions about which solar garden light stakes are right for your home.