Personal Air Purifiers and Air Sanitizers
Featured Item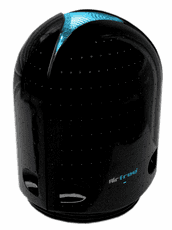 Airfree Onix 3000 - The Mold and Germ Destroying Air Purifier: This is the filterless air purifier which uses heated air to destroy airborne mold, bacteria, viruses, dust mites, and pollens. Unlike commonly available ionic units, it does not produce harmfully elevated ozone levels; it also reduces existing indoor ozone, which the America Lung Association indicates can be a serious respiratory irritant and asthma trigger. 650 sq. ft. Coverage. Proven to destroy Covid-19 virus!
Protect your family from common air pollutants that can cause respiratory distress by installing a personal air purifier in your home. Earthtech Products carries a large selection of high-quality Personal Air Purifiers and Air Sanitizers to choose from to help reduce contaminants that can cause respiratory ailments, allergies and asthma symptoms. The filter-less designs destroy up to 99 percent of all harmful microorganisms, removing dust mites, pollen, airborne mold, bacteria, viruses and more. Personal portable air purifiers are compact and can be moved around to target specific rooms or for seasonal use.

Depending on the system, contaminants are removed using advanced ion technology or sterilizing heat. Regardless of the removal method, the results are the same – cleaner, healthier air and a better living environment. While most home air purifiers have filters that must be kept up or replaced, Earthtech Products' air purifiers are filter-less, reducing maintenance time and cost while achieving the same impressive results. Personal air purifiers are available in a variety of sizes and styles. Orders over $99 qualify for free shipping.