Energy Savers + Home
Featured Item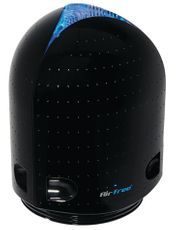 The Iris 3000 Airfree Filterless Air Purifier: This patented Thermodynamic TSS Technology destroys mold, dust mites, bacteria, viruses, pollen, pet dander, tobacco and other organic allergens. Airfree also reduces indoor harmful ozone levels. It is perfect for mold contaminated areas as well as asthma and allergy sufferers.Just plug it in and let it do the job. Airfree's awarded design perfectly fits your home decor. Recommended room size is 650 Square feet with a low energy consumption of 52 Watts. The Incinerator chamber heats to 400 F yet exterior remains safe and cool to the touch. Proven to destroy Covid-19 virus!
Earthtech carries a wide selection of energy-efficient products for your home and office, such as air purifiers, LED light bulbs and fans, and we have several tips and tricks to save energy and money at home. Earthtech also carries showerheads that reduce water usage by as much as 70 percent.
Here are a few other power-saving ideas to help get you started:
Read More
...

Replace all your old CFL and incandescent bulbs with new LEDs. Those old bulbs take more energy to light your house, burn out more quickly, and cost you more money in the long run in energy and replacements. The cost of the LED bulbs may be higher at first, but they are far more efficient, shine just as much light and have a life expectancy of 50,000 hours, or around 20 years. They also contain no harmful chemicals, such as the mercury contained in the old CFL bulbs.

Beware of and prevent "vampire power." Even when they're turned off, all electronic devices in your home are still draining electricity. TVs, printers, DVD players, etc., are all consuming power even when not in the use. Earthtech carries products that turn off these devices completely when they're not in use.

You can rely on Earthtech Products to provide you with the latest technology at the most affordable prices. Make sure you call us to discuss your options and ask questions; our knowledgeable representatives are standing by.