Solar Dock Lights, Cleats, Piling Lights & Dock Dots
Featured Item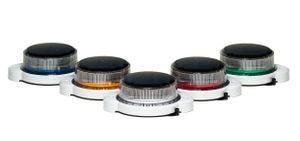 Leveraging custom optics, high-efficiency solar panels, and premium materials, this miniature solar LED marine lantern is as reliable as they come. Now with replaceable, recyclable batteries this lantern provides excellent value and reliable operation over the long term. Battery life expectancy is five years with product life up to 15 years and a three-year warranty. Ideal for marine aids-to-navigation, marina lighting, dock lighting, and port lighting.

If you need lighting in a marina or a remote dock where there isn't electrical service, these solar dock lights, solar dock dots and solar dock cleats are the perfect solution. There are models that provide a flashing light for use as buoys and channel markers, and to illuminate obstructions. Ambient lighting styles provide safety for marinas, boardwalks, decks, stairs and docks. There are dock lights rated for fresh water and salt water. Solar cleat lights illuminate dock cleats so they're not a hazard at night. Boaters and dock workers will appreciate these high-quality safety lights.

These solar dock lights recharge during the day with built in solar panels and automatically turn on at night. They have bright LEDs and are easy to install because they require no wiring. They have a long lifespan and do not require electricity to operate, so you'll save money.