Camping Solar Power - Portable Solar Power Sources
Featured Item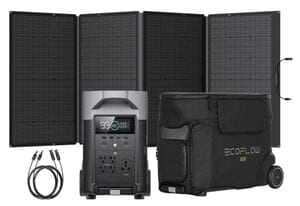 Introducing the world's first portable home battery with an expandable ecosystem for home backup, smart energy management, lower energy bills, and more. The Ecoflow Delta Pro with 400W Solar Panel with Pro Bag and MC4 Extension Cable Special Bundle combines the best add on components with the the next big leap in portable power technology, offering you power security and independence, wherever you are. Includes the Delta Pro Power Station, 1x 400W Foldable Solar Panel, the EcoFlow Delta Pro Bag and the MC4 Extension Cable.
There's something wonderful about being in nature, especially when you've got all the comforts of home. Portable solar power lets you rough it in the wilds, but still have a piece of modern civilization when you need it. You can sit in your tent or out in the open staring at the stars and still have your cell phone charging or a radio playing soothing music.
Read More
...

Mother Nature Approved Portable Solar Generators
Before solar power for camping, your options were limited to no power, a REALLY long extension cord or a "portable" fossil fuel generator that was bulky and heavy...not to mention belching out toxic fumes. With camping solar panels, you're getting true portability that is affordable, reliable and able to take care of your power needs. There's no fuel to lug around or obnoxiously noisy generators cutting through the peace and tranquility of the wild. You're getting the power you need and not harming the environment. It's a win-win scenario for everyone.

Camping Solar Power Kits Have Everything You Need
Solar power kits give you everything you need to camp out in comfort. A full kit offers a portable solar panel setup that you place in your campsite when you need power for anything from power tools, a laptop or a camping stove. You can also find outdoor solar lights to place around your campsite to provide illumination for added safety and security. If you just want to use your smartphone while camping, then save space with our portable solar powered smartphone chargers.

Portable Solar Generators at Earthtech
Do you need just a little power for in case of emergencies or do you want have a lit campsite with power for portable game systems and all the appliances you could fit in the car? No matter your portable solar generator needs, Earthtech Products has the power levels you need. Whether it's a huge family trip or a solo excursion out in the woods, having access to power makes it safer and more comfortable. Since you're shopping at Earthtech Products, you're also getting great customer service from experts who know solar power inside and out. If you have any questions about which of our camping solar panels are right for you, don't hesitate to give us a call.