Solar Vents, Fans and Skylights
Featured Item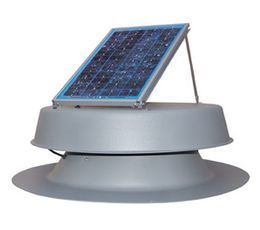 The Natural Choice in Attic Venting! The Solar Attic Fan is a simple and environmentally sensible solution that can save you money. Powered completely by free solar energy, this sleek and efficient vent is both compact and quiet. Fully operational right from the box, it installs easily, with no electrical wiring, no expensive electrician and city permits. And let's not forget powerful! A single 16 watt unit can fully vent up to 1,300 square feet, operating at up to 1184 cfms. Place it wherever you need improved circulation; attics, lofts, workshops, storage sheds, garages, even barns.
Today's solar power technology has a wide variety of uses beyond just powering traditional electronic devices. If you want to incorporate solar power into your home in a unique and unconventional way, consider adding solar vents, fans or skylights to your house. These products make it easy to get the ventilation or illumination you need without having to waste electricity day after day. Instead, you'll save money by using free, clean energy from the sun to power these devices.
Read More
...

Solar skylights offer a unique way to brighten up your home. These lights utilize the power of the sun to provide natural lighting in any area, whether it's the kitchen, a bathroom or a bedroom. With our selection at Earthtech Products, it's easy to fit a good fit for your ceiling. Solar skylights are considered a must-have for modern, eco-friendly homes.

Meanwhile, solar vents and fans help to keep your home cool, fresh and ventilated day after day. Normally, running these types of fans would be a serious drain on your wallet due to the increased use in electricity reflected on your utility bill. But solar fans and vents from Earthtech Products simply run on the energy of the sun, so you don't have to worry about paying extra to keep your home well-ventilated. A great example is a solar attic fan, which will help keep that musty, damp atmosphere out of your attic so you can safely store your personal belongings.

Turn to Earthtech Products to find these and other unique solar products for your home. Our selection of solar skylights, vents and fans includes a variety of products from trusted name brands. Because we specialize in solar power, we're available to assist with any question you might have about which products are right for you and how they work.