Solar Lamp Post with 7 Foot Posts
Featured Item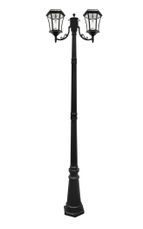 This rust-resistant cast-aluminum solar lantern, which features a classic look and a powder-coated black finish, with double lamp heads and 7' post. Comes standard with Warm White (2700K) GS Solar light bulb with automatic dusk-to-dawn Operation.
There's something magical about the traditional look of an old world gas lamp post. However, most modern versions require electricity, which will quickly add up on your utility bill. So if you want that Victorian light post look, go with one of these solar-powered lamp posts instead. Each of these lamps sits atop a 7-foot pole, making it a beautiful statement piece to place near your home or driveway. These solar lamp posts also look quite stunning when used for exterior decoration for businesses. But good looks aside, these solar light posts also offer a ton of potential savings when it comes to your energy spending. Because they are solely powered by the sun, they can stay on all night without you ever fretting about the costs that you'll see on your utility bill.
Read More
...

There are a wide variety of solar lamp post styles available when you shop at Earthtech Products. Each of these posts features unique details that set them apart. It might be that the post features multiple hanging lamps. Others feature ornate details like sculpted finials that add a stylish touch. We also carry some 7-foot solar lamp posts that have a much more modern style that's great for those with contemporary tastes. Regardless of which style you choose, however, you'll get excellent illumination without having to extend wires through your yard.

Earthtech Products is the ultimate source for all your outdoor solar lighting, including these elegant 7-foot lamp posts powered by solar energy. If you have any questions about our products, please don't hesitate to contact our helpful and friendly team of solar experts for more information. And be sure to check out our other outdoor lighting products, which includes solar string lights, solar hanging lanterns and more.