Solar Fence Post Cap Lights
Featured Item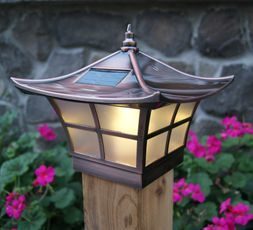 The Ambience Solar Post Cap adds radiance and allure to almost anywhere a soft accent light is desired. Engineered to provide up to 12 hours of solar light every night, while exuding a Japanese Garden ambiance by day. The 2 unique LEDs cast a warm yellow light and are designed to fit over an existing 4" x 4" or 3.5" x 3.5" post (3.5" x 3.5" adapter included.
Add light and style to your favorite outdoor space with a beautiful Solar Fence Post Cap Light from Earthtech Products. We carry a wide array of solar post caps to choose from with decorative bodies and super bright LED lights that deliver a soft glow where itís needed the most. Our solar fence lights are available in several finishes to match any outdoor decor. Solar caps are available in several sizes to fit most fence posts and can even be used on deck posts for after-hours outdoor entertaining. The size is listed with the name of the cap light to make it easy to find the right fence post solar lights for your needs.

Our fence post cap lights are made with heavy-duty materials that are weatherproof and can be used year-round. The lights vary in size and style, but all protect a swath of light around the post to create ambiance in any backyard space. Fence post lights are available in a range of prices and orders over $99 ship for free. If you have questions about a particular product or need help choosing the right post cap for your space, please call 1-877-548-3387 and one of our knowledgeable customer service representatives will be happy to assist you.