Battery Operated LED Lights & Wall Sconces
Featured Item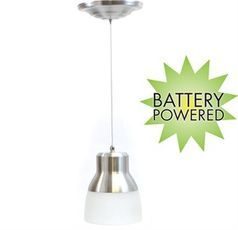 Enjoy 170 lumens of lighting power with the EZ Pull Pendant Light - Brushed Nickel. This elegantly designed ceiling light is equipped with 20 LED bulbs that will definitely improve the lighting condition of its immediate surroundings. This item is available at Earthtech Products, the most reliable source of eco-friendly and awesome merchandise.
Looking for an easy way to add lighting to your home? Whether you want more illumination outside or inside, these energy-efficient, battery-operated LED lights offer a quick and easy solution. Traditionally, extra lights would mean expensive rewiring projects that you simply don't have the time or the budget for. By choosing battery-operated wall sconces, motion sensors and other lighting products, you can get just the right amount of extra light without the expensive renovations. In addition, these lights give you added illumination without running up your utility bills. Just pop in a battery and you're ready to go.
Read More
...

You might think that choosing a battery-operated light means that you'll have to compromise when it comes to style. But with these lighting fixtures, that's certainly not the case. There are sophisticated styles among this collection, including beautiful copper battery-operated wall sconces with remote controls, elegant box lights and chic pendant lights. All these options run on simple, affordable batteries that can be easily replaced as needed. In addition to home applications, these lights can also be installed in businesses and commercial spaces. They're a budget-friendly solution for extra lighting that also limits your utility costs.

Browse this full collection of energy-efficient, battery-operated LED lights at Earthtech Products to find a great fit for your home. Our friendly and experienced staff members can help you find the perfect lights to illuminate your home just the way you want. We're not a faceless big box store, which means you'll talk to a real person every time you call us. Be sure to enroll in our rewards program before making your purchase so you'll earn points that you can redeem towards future orders. In addition to the points, our rewards program offers other handy perks like exclusive offers and faster checkout.