Portable Power Packs, Batteries & Inverters
Featured Item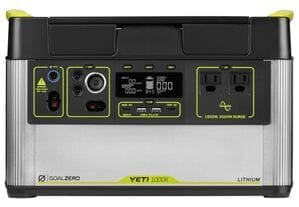 Run your essential devices and appliances with the Yeti 1000X. Our most versatile sized power station is big enough to power medium to large appliances and portable enough to pack in the car and go with you anywhere. Upgraded to include USB-C Power Delivery, integrated MPPT for increased solar charging efficiency, and faster recharge times. Power phones, laptops, camera equipment, portable fridges, medical devices, TV's, and more.
The Earthtech lineup of high quality portable power packs is unique because most of them are solar-compatible. Simply attach a solar panel to a portable power supply and have sustainable off-the-grid power as long as the sun shines. You can take energy anywhere you need it.

Whether camping, building, on a road trip, tailgating or experiencing an outage, our portable power supplies give you all the power you need. You can fire up lights, appliances, tools or electronic devices without the noise and gas fumes commonly associated with traditional generators.

Earthtech Products also carries a complete line of portable power packs and generators ideal for camping and emergencies. Each provides an eco-friendly way of ensuring you have power at your cabin, campsite or home. In the event of an emergency, having a backup power supply can be lifesaving by keeping critical appliances, lights and electronics running and reducing stress on family members. Whatever your needs, we have a portable power supply that be keep the lights on and the phone charged in the event of an emergency. Be prepared by purchasing a portable power pack today.