Solar Water Fountains
Featured Item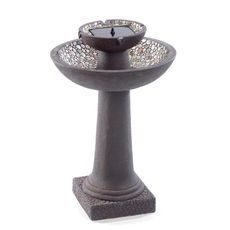 The River Stone Brown 2-Tier Solar-On-Demand Fountain is a classic, elegant fountain with a brown finish. This fountain creates soft ambient sounds and is sure to add peace and relaxation to any garden or outdoor area. A solar-powered pump is included, powering the fountain for up to six hours on a full charge. Crafted from glass-reinforced concrete with a natural gray pebbled texture finish on the bowl interior and basin.
Fountains instantly create a peaceful environment, but the cost of running them constantly can quickly add up. For a cost-effective and energy-efficient solution, use these solar-powered water fountains from Earthtech Products. These elegant water features create that enchanting feeling you want for your landscaping projects without the hassle of figuring out how to run electricity to an outdoor pond or fountain. Instead, you can easily install one of these solar water fountain pumps and let the sun do all the work for you. Your guests will never know the difference while you enjoy avoiding that extra cost on your utility bill each month.
Read More
...

Earthtech Products offers a wide variety of solar water pumps for ponds and other water features. The selection of pond solar water fountains varies in size, so you can choose a water fountain pump with the projection height or gallon usage that works best for your needs. In addition, there are a number of solar birdbath fountains and free-standing fountains available for those who don't have a pond at their home. And with all of these options, you'll find that the designs range from the classic and traditional to the more contemporary designs of today. With so many options, just about any homeowner can find a perfect fit for their outdoor space.

If you thought that getting a water fountain would simply be too expensive due to the costs of keeping it running, think again. With these solar water fountains, you won't have any energy costs related to your fountain use. Instead, you can enjoy the lovely atmosphere these landscaping features provide without the hassle of rewiring or plugging them in. Be sure to sign up for our rewards program before placing your solar fountain order at Earthtech Products. You'll receive points which can be redeemed for discounts on future purchases.