Solar String Lights & Solar LED Rope Lights
Featured Item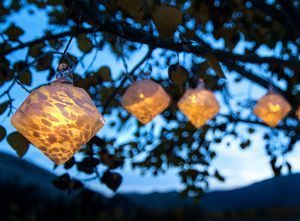 If you are looking for stunning, bright, luminescent, solar string lights, look no further. Simply place these beautiful lights within the greenery of a garden bed, archway or wrap them around a deck railing. Powered by solar, the Aurora Glow string lights turn themselves on at dusk and off at dawn.
Brighten up your outdoor spaces with solar LED string lights and rope lights from Earthtech Products. These solar-powered lights offer just the right amount of illumination for outdoor spaces without raising your utility bill. Whether you want enchanting mini solar lights outdoors on the deck or colorful solar rope lights winding through your garden, these affordable lights help create the outdoor environment you've been dreaming of. Meanwhile, they don't waste energy, they're easy on the environment and they charge up automatically each day by collecting the sun's energy. There's no rewiring to figure out and your energy costs won't soar, even if you use these lights every single night. Instead, you'll enjoy free, eco-friendly illumination in your very own backyard.
Read More
...

Besides our traditional solar-powered string lights and rope lights, you'll find other fun outdoor lighting products in this collection. While some of the lights have unique shapes or designs, others come in bright tones or multi-color styles. You can find lights that are perfect for your deck or pergola or you can add a special light feature to your trees or bushes. Because everything is solar powered, you aren't limited by proximity to an outlet. Instead, you can create outdoor lighting schemes that fit your style or move the lights around to various locations without having to rewire anything.

Solar LED string lights are the perfect solution for homeowners who want something that's easy to use, cost-effective and safe for the environment. Find the perfect solar-powered string lights by browsing this collection at Earthtech Products. Besides our great selection, you'll also find that we offer exceptional customer service. Our solar power experts are available to help you find the right lights for your needs or answer any of your questions. Plus, we offer a convenient rewards program that helps you save on future purchases.