Solar Generators For Home, Cabins & Outdoors
Featured Item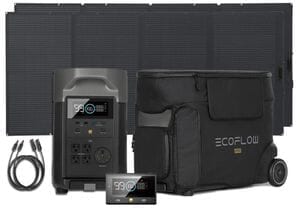 Introducing the world's first portable home battery with an expandable ecosystem for home backup, smart energy management, lower energy bills, and more. The Ecoflow Delta Pro with 2x 400W Solar Panel with Pro Bag and MC4 Extension Cable Special Bundle combines the best add on components with the the next big leap in portable power technology, offering you power security and independence, wherever you are. Includes the Delta Pro Power Station, 2x 400W Foldable Solar Panel, the EcoFlow Delta Pro Bag, Remote Control and the MC4 Extension Cable.
Use Solar Generators for Emergency Situations
Disaster can happen at any time and you need to be prepared with Solar Generators from Earthtech products. Whether itís a massive storm, natural disaster or a malfunctioning transformer, power outages happen and that leaves your family vulnerable. Our quiet solar generators donít emit noxious fumes like gas powered generators and can power your home for as long as needed. Theyíre run by solar energy, so every day it gets powered by Mother Nature and doesnít require purchasing fuel. In emergency situations, solar powered generators can be a life saver. While the rest of the neighborhood is in the dark, youíre sitting comfortably in your home with a working refrigerator, appliances and equipment such as laptops, radios and home alarm systems.
Read More
...

Go Green with Solar Generators
While most generators require physical fuel, our solar backup generators are free from the constraints of fossil fuels and electricity. Renewable energy is a popular source for power not only for solar products, but also for large scale electricity production. People realize the importance of going green and keeping the environment safe for future generations.

When you install a solar backup generator, youíre protecting not only your family, but the environment as well. Our generators are quiet because they donít need combustion to operate. They donít pollute the air with fumes. They donít require fracking or mining to manufacture their fuel.

Solar Products You Can trust
When an emergency happens and the power goes out, your family needs to be safe and secure until help arrives or the power comes back on. Solar generators from Earthtech products are some of the best on the market. They are friendly to the environment, provide all of your power needs and available at a reasonable price. Contact us today and let us find a reliable solar powered generator to fit your needs.