Solar Spot Lights & Solar Flood Lights
Featured Item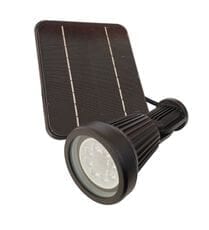 We are excited to introduce our new Pro Series Color Changing Solar Spot Light. It incorporates the latest in technology to bring you a solar spot light like no other. Six dedicated 2700K warm white LEDS give you the ability to set your brightness at 110, 180, 270 and 340 Lumens. In addition to warm white you are able to choose from 15 different colors and four color changing modes for a truly customized look.
Landscaping on your own can be a bit intimidating, but Earthtech Products is here to help. For a professional look without the budget-busting price, add some solar spot lights or flood lights to your yard. Rather than trying to figure out how to wire traditional lights out in the yard, make things easy and efficient by using solar power. Solar spot lights are perfect for highlighting a particular feature in your yard, whether it's a tree or your favorite part of the garden. If you want a wider glow to be cast in the area, opt for one of these solar flood lights. They make it easy to illuminate areas like the front porch, the garage or the driveway without the added energy cost that comes with traditional lighting.
Read More
...
Solar power can also come into play outdoors if you own a business. Solar spot lights for signs are a great way to attract attention to your store or office location after the sun sets. You can also use solar flood lights to highlight the area where your business address is posted or create a safe path to your entryway. And because the lights will automatically come on at night after collecting the sun's energy all day, these lights are also a cost-effective solution for business landscaping.
Find the perfect personal or commercial solar flood lights and spot lights for your needs at Earthtech Products. Our selection includes a number of individual and multi-piece options. If you're not sure which one is right for you, don't hesitate to get in touch with us. Since we specialize in solar power, we know everything there is to know about these products and can easily direct you to the option that fits your needs and your budget.
Custom Solar Lighting Form - Need Help Finding the Perfect Lighting Kit? No Problem!
Get a Personalized Recommendation for Custom Solar Powered Low Voltage Sign, Landscape, Street/Municipal, Indoor/Outbuilding Lighting Systems