Emergency Survival Supplies & Backup Power
Featured Item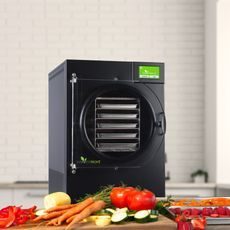 The Harvest Right Standard Pro Freeze Dryer is small enough to fit on your counter top and features the ability to freeze dry large amounts of food in the comfort of your own home. Freeze Drying is more stable than dehydrated, bottled or canned foods, featuring a long shelf life of as much as 25 years, while preserving freshness, nutrition color and taste.
Whether in the face of a prolonged power outage or a natural disaster such as an earthquake, tornado, blizzard or flood, having emergency supplies and backup power ensures a greater sense of security, well-being and chance of survival.
In these times of extreme weather events, this kit is an essential component of an emergency plan that should be in place for you and your family. Visit online or call today. An Earthtech Products customer service agent can help you decide the best way to prepare for the unexpected with a wide range of food, warmth, shelter and alternate power options to choose from.
Read More
...

Food is first on the list of necessities. In the event that going to the grocery store is not an option, and what's on hand in the fridge and pantry may not last long. Earthtech recommends premade food packages. They are easy to store and preparation requires only the addition of water. At least a week's worth is a good amount to have on hand in an easily accessible place in the house.

Emergency survival items such as water purifiers, flashlights, communication devices, dust masks, and first aid kits are also extremely important to have on-hand.

Last on the list of emergency items to have on-hand is a source of backup power, a source of comfort and survival in times of disaster. Earthtech recommends a solar generator for some lighting at night and a solar battery charger for your cellphone and other electronic devices. Hope for the best and prepare for worst. Don't delay, create a disaster preparedness plan, and get what you need to survive from Earthtech today.