Goal Zero Lights and Accessories
Featured Item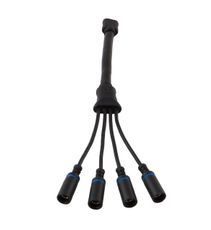 The 4x 8mm Combiner to Anderson Connector is designed to safely combine two or more Goal Zero Solar Panels with 8mm outputs into an array with a single Anderson Power Pole (APP) connector. For use with larger Goal Zero Yeti Portable Power Stations with an APP input such as the Yeti 1250, Yeti 1400, Yeti 1500X, Yeti 3000, Yeti 3000X and Yeti 6000X Lithium Power packs.
Earthtech has a wide selection of Goal Zero accessories, including LED lights, lanterns and radios that can help you harness the power of the sun while making your life a little easier. From charging kits and battery packs to lighting devices and much more, you'll find exactly what you need whether you're camping, preparing for off-grid living or keeping your family ready for emergency power outages. Never worry about your readiness in the face of an emergency with these safety lights and accessories from Goal Zero.

Our extensive collection is packed with affordable, ecologically responsible lights and accessories that you can use every day. We only carry products that are made by the world's most reliable manufacturers, so you'll find the best selection at the best prices right here at Earthtech.