Product Details
If you are looking for a Solar Oven for camping or survival then you found what you've been searching for!
The Sport's compound parabolic reflectors and tubular design converts nearly 80% of all sunlight entering it's refectories into useable heat. The Solar Sport Stove / Oven is a portable and powerful solar cooking source that can cook meals in as little as 20 minutes, reaching temperatures up to 550 degrees Fahrenheit.
| | |
| --- | --- |
| • | Fast: Cooks a meal in as little as 20 minutes, reaching temperatures up to 550°F/ 290°C |
| • | Cooks When Cloudy: You don't have to see the Sun to solar cook! The GoSun is so effective almost no day is off limits! |
| • | Portable: Deploys in seconds and collapses into a durable package. GoSun anywhere! |
| • | Sturdy: Featuring NEW Rubberized legs for extra grip! Cook securely in windy conditions, regardless of surface. |
| • | Fuel-Free: No mess. No flames. No cost. Always prepared for delicious! Versatile: steam, bake, fry, roast and boil, anything is possible inside the tube |
| • | Safe to Touch: Vacuum tube keeps exterior surface cool even while hot inside |
| • | Two Year Warranty: The tubes are durable, made of borosilicate glass (like Pyrex) |
The standard package includes a durable borosilicate, evacuated glass tube cooking chamber, two foldable parabolic reflectors that fold to protect the tube like a clamshell, a stainless steel cooking tray, a rugged scrubby cleaning tool that attaches onto the tray's end and stainless steel carrying handles.
Portable and Packable: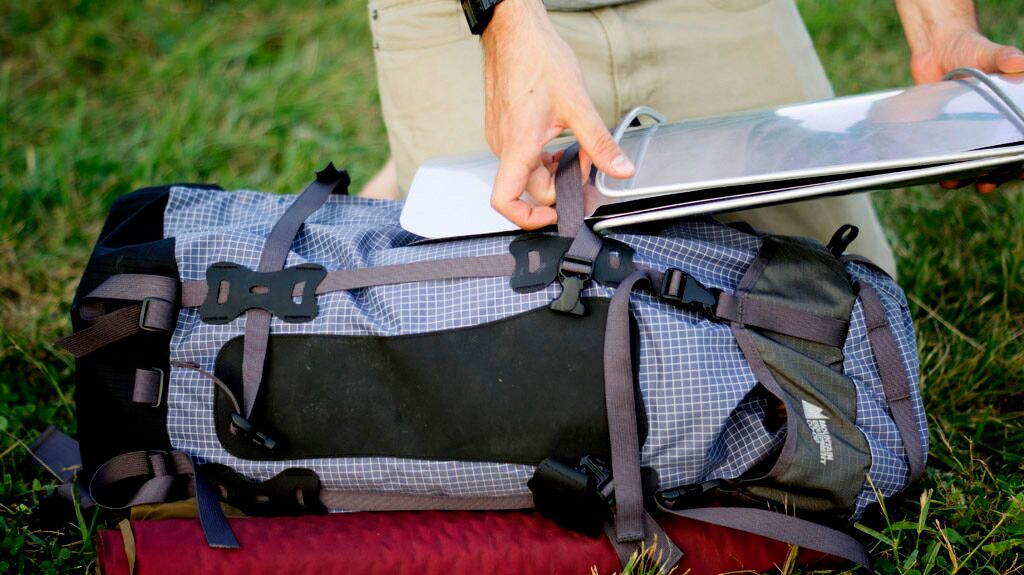 How it works: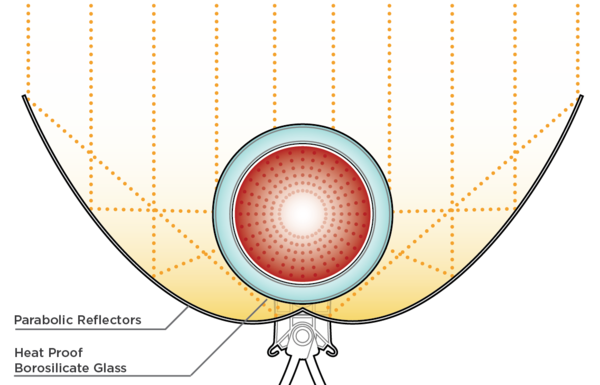 A miracle of science, the evacuated glass tube of the GoSun Cooking Technology is a near perfect insulator, allowing one to solar cook in even the most challenging conditions. By effectively capturing light from a broad range of angles, the GoSun does not require frequent readjustment, making it the lowest maintenance fuel free cooking device yet.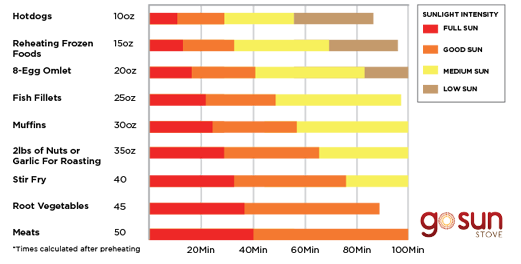 Specifications
Specifications:
Dry Weight:
7 lbs (3.18kg)
Oven Volume:
40oz (1.2L) fluid or up to 3 lbs (1.4kg) of food
Oven Dimensions:
2.7" (7.0cm) outside diameter, 2.1" (5.4cm) inside diameter , 24" (61cm) length
Unit Open Size:
24" (61cm) long x 16" (41cm) tall x 12" (30cm) wide
Unit Closed Size:
24" (61cm) long x 8" (20cm) tall x 5" (13cm) wide
Estimated Power Output:
230 Watts in full sunlight
Maximum Temperature:
700°F (371°C)
Working Temperature:
200°F (93°C) - 550°F (288°C)
Cooking Time:
As fast as 10 minutes
Warranty:
2 Years
What's Included
What's Included:

• (1) Durable Borosilicate, Evacuated Glass Tube Cooking Chamber
• (2) Foldable Parabolic Reflectors that fold to protect the tube like a clamshell
• (1) Stainless Steel Cooking Tray
• (1) Rugged Scrubby Cleaning Tool that attaches onto the tray's end
• (1) Stainless Steel Carrying Handles

Video


This is the go sun stove, a game changing solar cooker that can finish a meal in 20 minutes even under overcast skies. Cooking meals using only the sun, the go sun stove goes wherever you do. Bake, steam, roast and saute, nothing is off limits, plus it tastes great. The secret to this technology is a vacuum tube which absorbs light and acts as a perfect insulator holding heat in the harshest conditions. With this technology go sun is revolutionizing cooking for people around the world. We invite you to join the next evolution in cooking, welcome to the fuel free frontier.
100% Recommend this product
(
1
of 1 responses)
I wasn't sure what to expect with this but it is awesome. Set it up and was cooking in no time. Meat and potatoes in about an hour!
Pros
Easy to use.
Easy to clean.
Better than I had hoped for!
Ken
from Sandy oregon asked:
December 22, 2018
Can I boil water in this tube is it water tight
1 Answer
You can indeed boil water with the GoSun Stove. We recommend using the GoSun Brew which is included with the Pro Pack: https://www.earthtechproducts.com/gosun-sport-pro-pack.html Thank you for your inquiry!
Submitted by:
Chris Pesce
on December 26, 2018
Herb willisms
from Florida asked:
March 18, 2018
Can any of your portable models boil water?
1 Answer
Submitted by:
Customer Service
on March 19, 2018
Barbara
from Rome, NY asked:
August 25, 2016
Can you bake in this oven? For instance, can you mix up a batch of muffins and cook them in the tube? With paper liners?
1 Answer
You can absolutely bake in the GoSun Sport Solar Oven. Thank you for your inquiry!
Submitted by:
Customer Service
on September 7, 2016