Glass Dinnerware & Tabletop
Featured Item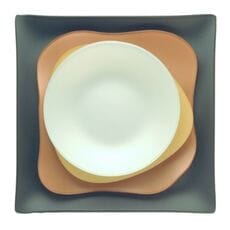 Sea Glass - Casual Dinnerware Set 1: Great for bread, salad, canapes, sushi, candles, desserts, soaps, jewelry, use your imagination! These beautiful combinations are an instant eye opener. Gracefully Transforming recycled glass into elegant pieces of art that also offer functionality & purpose.
With our sumptuous recycled glass dinnerware and table top accessories, you can have an earth-friendly dining room and still dazzle your family and dinner guests with an elegant setting. Made from natural sea glass in unique shapes molded by the ocean, the sea glass plates and glass dinnerware sets are simply exquisite and wonderfully unusual. They're very adaptable, perfect for both casual meals and formal dinner parties. We also have sea glass table accessories that are made from and post-industrial recycled glass.

The recycled sea glass plates and sea glass bowls can be used for many purposes. They also make lovely soap dishes and potpourri holders. They can hold candy, chips or nuts at parties. Use them for artistic and inspiring sushi presentations, or as attractive votive candle holders.