Innovative Car Products
Featured Item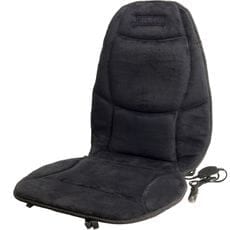 Drive in heated luxury the next time you need to go out and run an errand. Despite harsh cold winds and dropping temperatures, this wonderful heating innovation will keep your body in heated comfort while you take your car out for a spin. The Wagan Heated Seat Cushion is a velour 12v car seat cover that's easy to install and will help to keep you warm all throughout your winter journeys.
You want your car to be well-equipped for anything, and our innovative car products help you achieve that goal. From handy solar chargers that keep your smartphones, tablets, e-readers, digital cameras and GPS devices operating at peak performance to car safety accessories that make changing a tire or making other roadside repairs easier than ever, these outstanding automobile accessories and solar products are essential on the go.

Our assortment of handy car chargers and gadgets includes convenient USB chargers that can charge multiple electronic devices at once within a compact, sleek design, as well as universal car laptop chargers that work with thousands of laptop makes and models. Innovative safety products for the car, like portable car jump starters and more, will help you stay safe while on the road.